Prevention is the Best Medicine
Many diseases and conditions can be prevented easily and cost-effectively through vaccinations, monthly preventative treatments and diagnostic screenings. Because RalstonVet cares about the health and wellness of your pet, we are committed to the quality of his or her life, from puppyhood and kittenhood to mature adulthood. A series of health care schedules have been developed to focus on the wellness of your cat or dog through preventative veterinary care. Our exceptional pet care teams are pleased to offer these services for your pet. We invite you to become more familiar with the health care schedules that best fits your pet's needs - and we are here to answer all of your questions.
Alternative Veterinary Therapy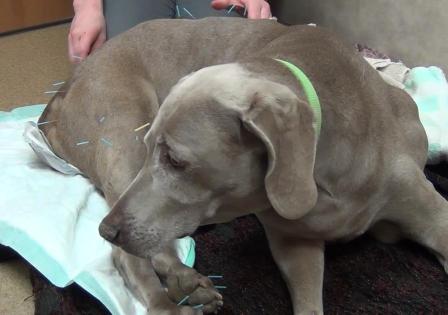 Veterinary Acupuncture
Acupuncture is an ancient medical therapy that is performed by placing sterile needles in specific points on the body. The original theories of Traditional Chinese medicine believed that certain points on the body regulated flow of "Chi" (energy). Medical acupuncture uses current knowledge of anatomy, physiology and pathology of these specific acupuncture points.
Acupuncture is used to treat; Musculoskeletal conditions (arthritis, soft tissue injury), neurologic disease (disk disease, degenerative myelopathy), post-operative pain management, skin disorders (acral lick granuloma), KCS (dry eye) and urinary dysfunction to name a few.
Laser Therapy
Laser Therapy is an FDA-cleared modality that reduces inflammation and that results in pain reduction. Laser Therapy is effective in treating acute pain, chronic conditions, and post-operative pain.
Laser therapy treatment is safe, painless and fast. Treatments to deeper tissues are administered in 5 to 10 minutes. Typically, even chronic patients exhibit improvement after 3 to 5 treatment sessions. Laser therapy utilizes the body's own healing powers by stimulating cellular activity. Despite short treatment times, laser therapy treatments initiate a healing process that continues to actively reduce inflammation for up to 24 hours after treatment.
How Do you know when to call or take your pet to the vet.  The care and comfort of your pet is import to us. If you have any questions please contact us.   
(402) 331-6322