Dr. Cary Wolter was born and raised in southwest Iowa. As a child, she rode horses and took care of all the pets on her family's small acreage. After receiving her Bachelor of Science from Creighton University, she worked in various veterinary related positions until deciding to go back to school. Dr. Wolter is a 2013 graduate of Iowa State University's College of Veterinary Medicine.
After working in a mixed animal veterinary position in Ohio, Dr. Wolter was offered an opportunity to move home and has been in the CB/Omaha area ever since. Dr. Wolter enjoys many aspects of veterinary medicine, especially dentistry, dermatology, nutrition counseling, and general preventative care.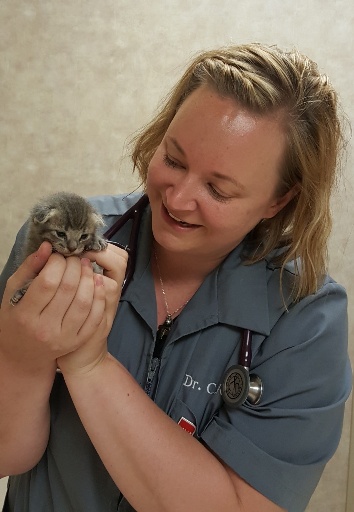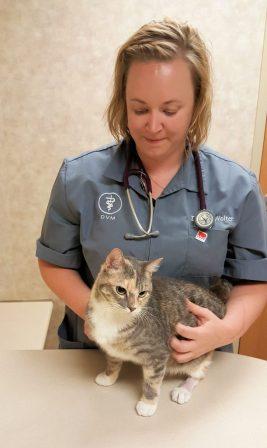 She currently has 3 pets: Brady, a Quarter Horse/Morgan cross gelding, Brinley, a Pit Bull Terrier, and Toes, a Domestic Short Hair cat.
"I was very pleased to have gotten Wendy in so soon for her problem to be treated. I was pleased with the receptionists, Hannah (assistant), and the Vet Tech was fantastic. Both Dr. Wolter and Hannah were patient and took time to explain everything. A plus, plus for this visit, thank you so much. Wendy is getting better and we will return for her follow up visit."
"Dr. Wolter was very personable, easy to talk to and very gentle with my dog. We will definitely be coming back to her."
"We have seen Dr. Wolter for all of our puppy's vaccinations and first visits. We have loved all the staff at Ralston Vet, especially Dr. Wolter who was able to answer all of our questions!"