Dr. Erickson started at Ralston Veterinary Clinic as a veterinary school intern and was hired in June 1976. He has watched the Ralston Veterinary clinic evolve from a 4 doctor large and small animal practice to the 10 doctor small animal practice it is today in our fantastic hospital.
Dr. Erickson enjoys providing client education, doing orthopedic surgery and working on difficult internal medicine cases.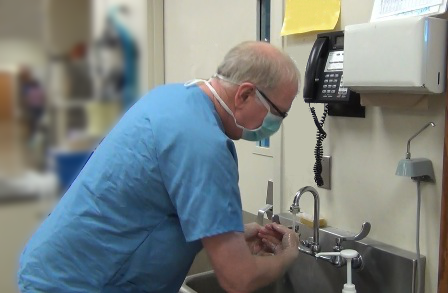 He enjoys seeing his many long time clients and their family pets.  Away from work he enjoys basketball, fishing, golf, and trips to the mountains.
"I'm always very satisfied with your facility. I also just ordered my Heartguard at your online store & that was great also. You just can't beat Dr. Erickson, I have never had such a caring Vet before & so knowledgeable. He explains things so well. My sister passed away leaving me her dog & he has helped get her back in shape....I really owe him!!!!!"
"Great Vet. My family has been taking our fur kids to see Dr. Erickson for over 30 years. Staff is so friendly."
"Thank you Dr Erickson for being a great Vet and a great person. I always know you are going to tell me the truth even if it is one that is hard to hear. You go above and beyond what you have to. My family very much appreciates everything you do!" Amy D.