Dr. Kennedy graduated from Iowa State University in 2015. She grew up in Papillion, NE and is grateful for the opportunity to serve her community's loving pets.
Her professional goals include establishing life-long relationships with clients and their pets, performing surgery & dental work, and working up internal medicine cases.
Dr. Kennedy spends most of her free time with her husband, son, energetic chocolate lab (Millie), and 2 cats (Autumn & Sophy).  Her hobbies include volleyball (sand & court), playing frisbee with her dog, cooking, baking, and gardening.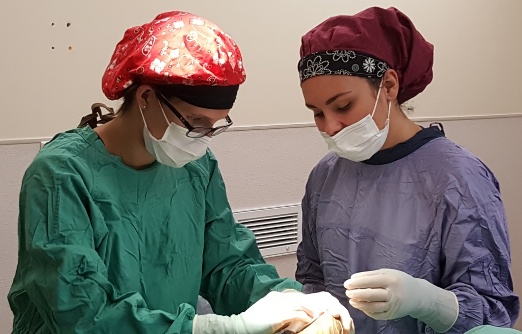 "Ralston Vet has been amazing to us with or dogs Butch and Gigi. Dr Kennedy is so amazing! I cannot say enough about her. She makes us feel welcomed, comfortable and she cares so much about fur babies. I would recommend her. Thank you for everything."
"I enjoy Dr Kennedy for her thorough examinations and very detailed explanations. She always answers any questions and concerns I have before I leave. I truly feel valued and in good hands when I'm at my vet."