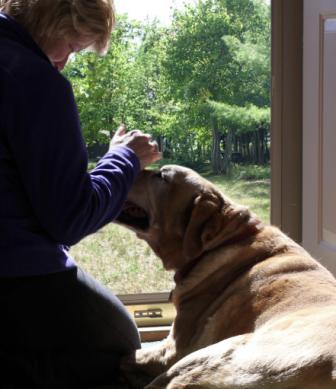 When it is time to say goodbye...
We are here to support you.
Having a pet can be one of the most enjoyable experiences a person can have.   A pet provides companionship and unconditional love.  Unfortunately, just like humans, pets get older and can have medical problems that seriously affect their quality of life.   At these times, it may become necessary to consider humanely ending a pet's life.   We have created this page in the hope that it will help you during and after the decision making process.  If you would like more information, or if you feel that you need more guidance than is offered here,  please contact us to help you during this difficult time.  This page's content may be upsetting for some people.   The decision making process and the actual procedure will all be discussed.
How do I know it is time?
This decision is never easy, often times you may feel great conflict and guilt.   The decision is a very personal and private one.   We will do everything we can to help you determine the proper timeframe for the procedure. You may find the answers you are looking for by answering some questions about your pet's quality of life.
Are they the same pet they used to be?
Do they have trouble getting around?
Are they not able to control their bladder and/or bowel movements?
Are they in constant pain?
If you are unsure, you always have the option to make a quality of life appointment with the veterinarian as well.
What is the process for saying goodbye?
I want to stay with my pet.
Call when you know it is time and make an appointment with a doctor. You may bring whomever you wish to help you in this difficult time. Upon arrival, we will guide you to a room and make sure we understand your wishes and complete the final arrangements. A technician may temporarily get your pet, place an IV catheter, and return your pet to the room. This catheter is to help ensure your pet's comfort. When you let us know you are ready, a doctor will enter the room and administer an injection that will put your pet to sleep.
Final arrangement decisions
All arrangements will be handled respectfully by RalstonVet team members. Cremation services are provided by Paws and Remember click on the link below for more information. The service includes transportation of your pet to the crematory. For those that select a private cremation, there are a variety of urn and engraving options and the cremains will be returned to RalstonVet. These prices vary based on pet size and urn choice. We will notify you upon return. Another alternative is: Non-private cremation provided by Paws and Remember who will respectfully place your pet's ashes in a collective ossuary. 
What if I choose not to be with my pet?
Please remember this is a very personal decision and there are no wrong answers. Call when you know it is time and let us know when you will be arriving. Upon arrival, we will guide you to a room and make sure we understand your wishes and complete the final arrangements. You are welcome to stay with your pet as long as you want. When you are ready to leave, the procedure will be performed immediately by a caring team member.